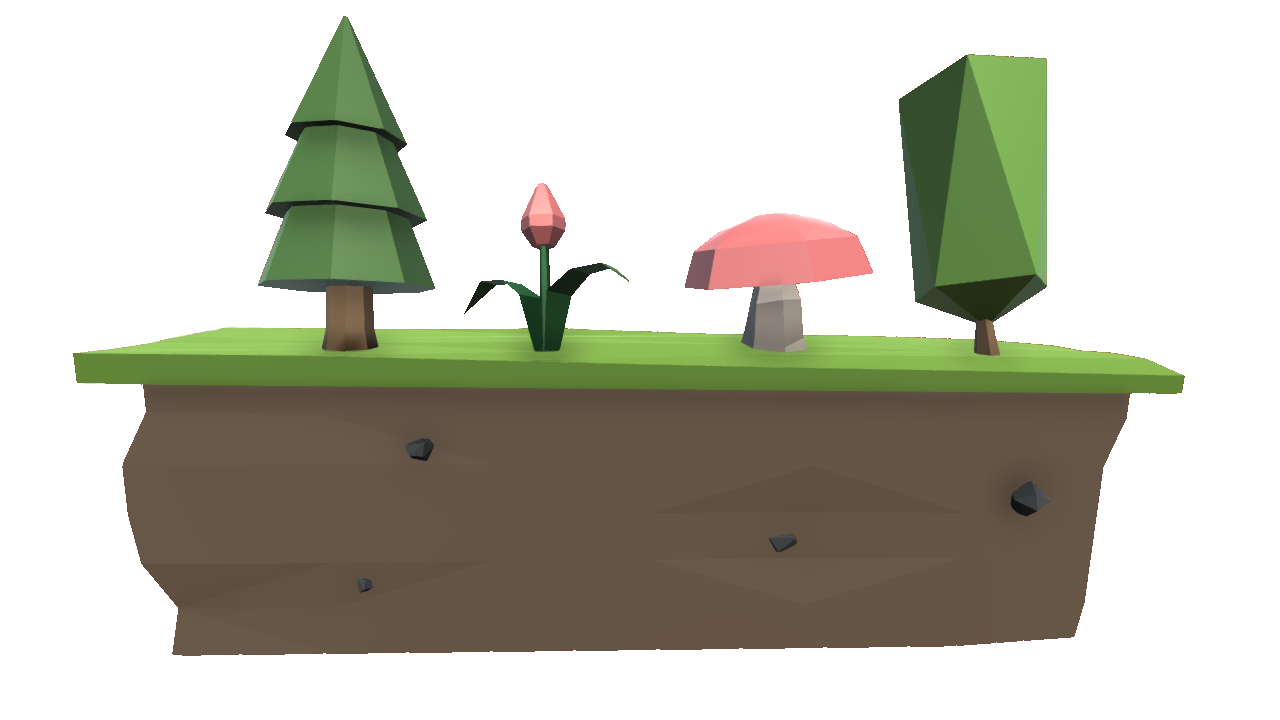 Retract
Retract Massive New Years Update!
---

Happy New Year,
Our massive New Year's update is now released containing seemingly millions of different changes including bug fixes, UI improvements and gameplay addition. So what has been added and improved? Well see below and all of the patch notes are at the bottom of the page.
Trailer
We have created a short trailer for Retract, please leave a comment below or on our discord what you think and if you have any ideas for how we can make it better!
Faster Time Changing

This has been one of the most requested features and we have added it! You can now speed up changing time, simply open the options menu, go to the other section and adjust the speed slider as seen below! We hope this will significantly increase your enjoyment of the game so you aren't spending a lot of your time standing and waiting!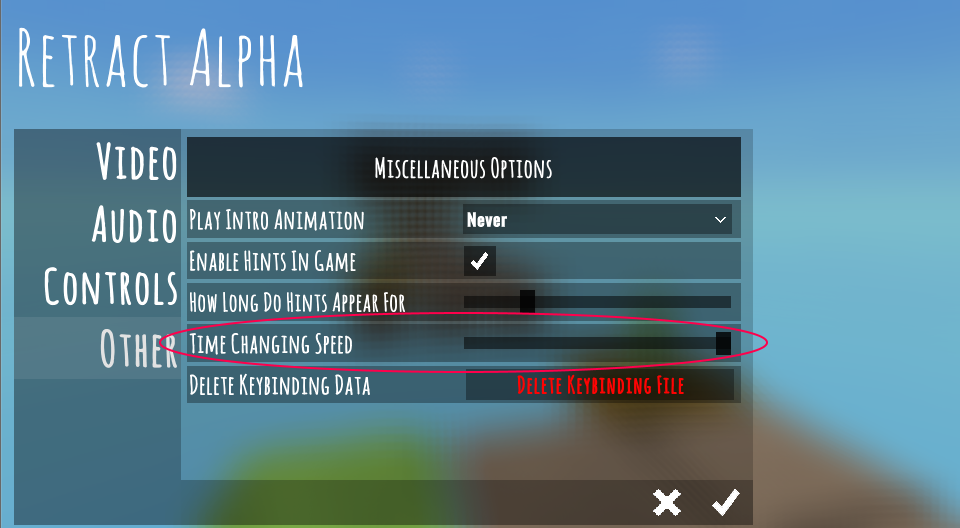 In Game UI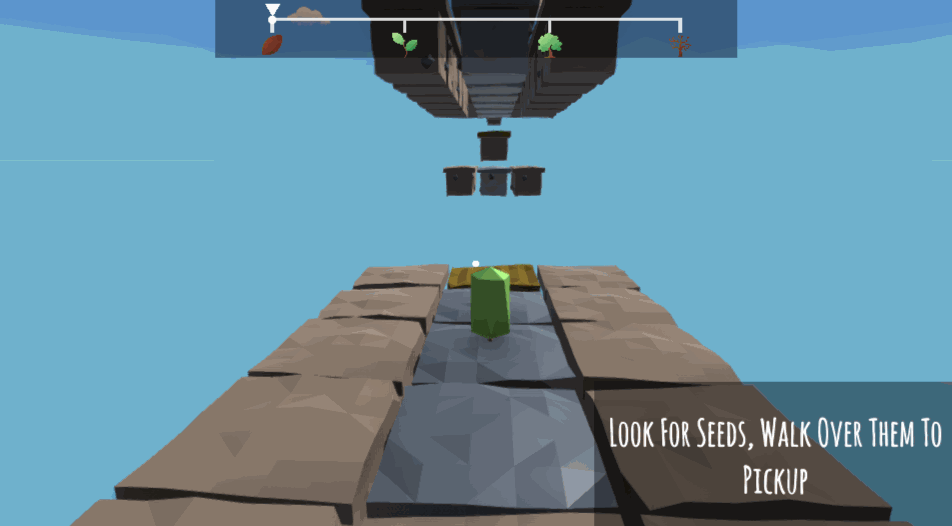 We have designed a brand new inventory system which hopefully both looks nicer and is more functional! Alongside this we also have a brand new timeline with icons, the arrow shows the current time period the level is in and the circle shows which time period you are changing towards, this is a helpful way to represent how many time period changes you have queued up. There is also a brand new notifications UI design which uses less space, draws more attention through animation and looks alot cleaner, notifications in game will now wait if you have any menus open which hinder them been seen, as always hints can be disabled in the options menu.

Level Select Menu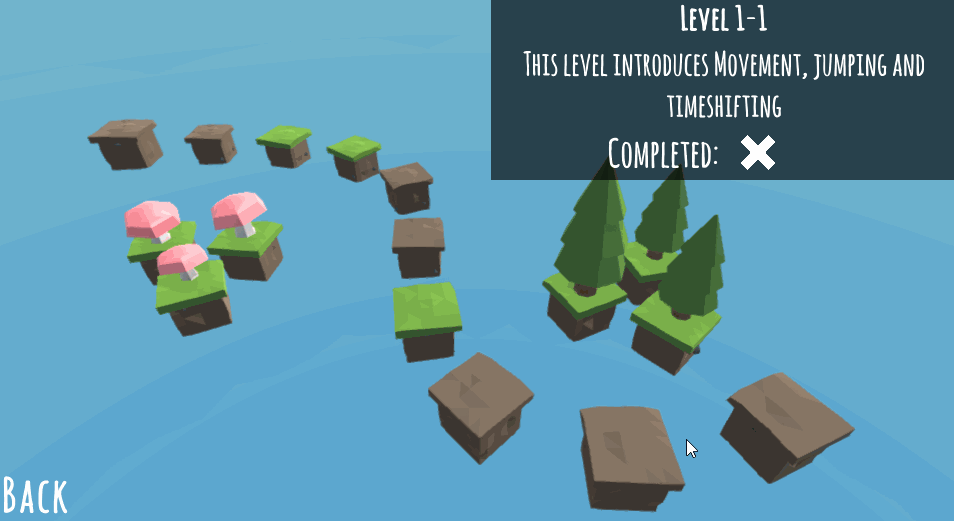 We posted a survey on our discord and twitter to see what type of new level select menu you wanted, option 4 received the most votes and with some other feedback we have now implemented a brand new level select menu. When more levels are added there will be arrows on the side to move between them.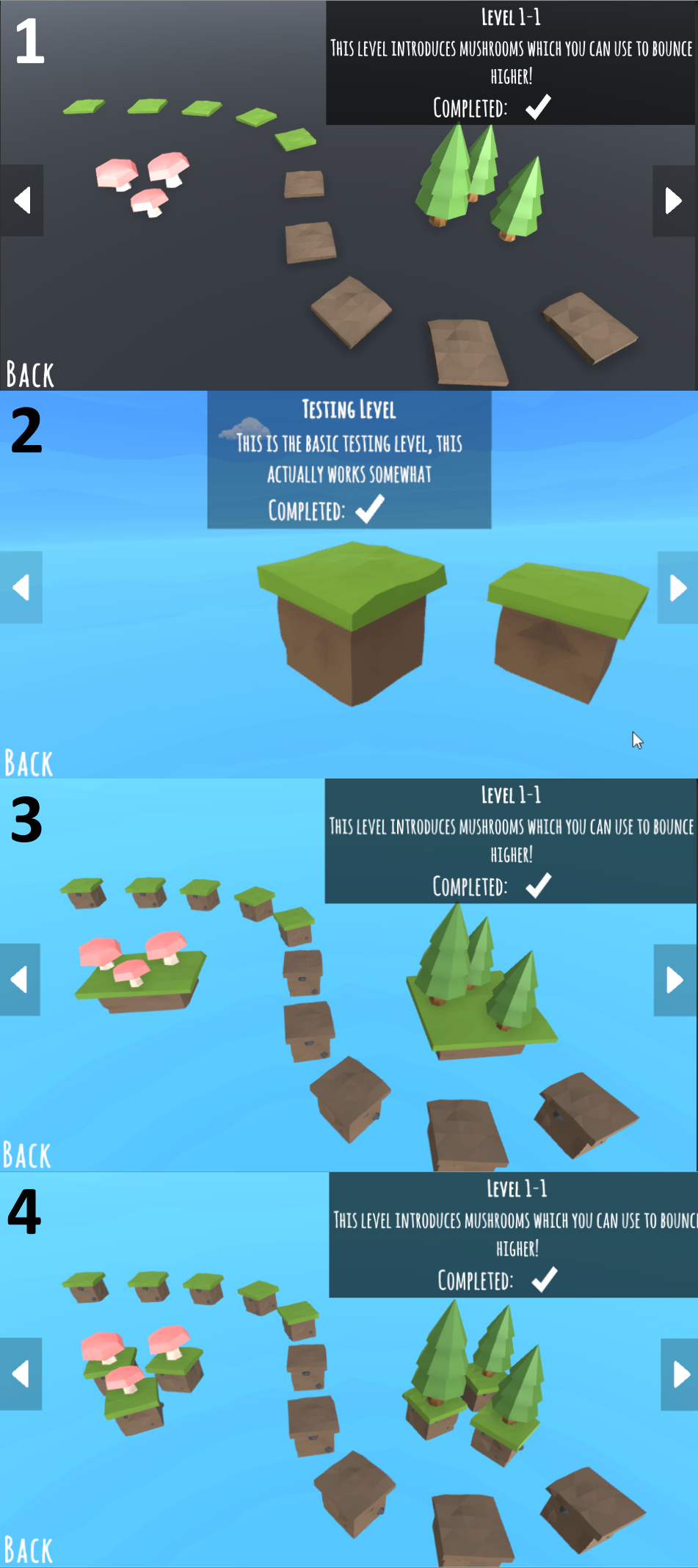 Tutorial Update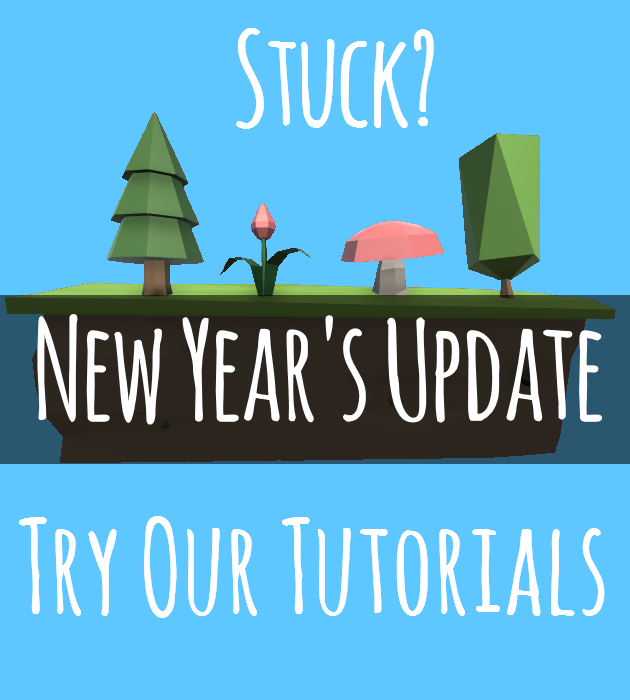 As this update contains a large amount of changes to levels and visuals we feel that it would be best if we update our video tutorials online incase people get stuck, as such we did exactly that so you should be able to find up to date tutorials here!
Update Checking

Behind the scenes a lot of backend work has gone into this so that now when we release future updates you will get a notification when you run the game! We have spent time on this as we feel that it is sometimes difficult to realise that your games have updates when they are DRM Free as such we hope you will enjoy this notifier!
Linux Build & Facebook
We have now uploaded a build for linux although this hasn't been tested we have had some requests for a build like this. Also we now have a facebook page for Retract so if you could head on over and show your support that would be heavily appreciated!
Or download below for Windows, Mac & Linux
Bugs
If you find any bugs feel free to jump on our discord and tell us here
Patch Notes
A larger list of patches can be seen below!
ability to press enter on level select menu
add arrow for level selection
add notification to tell player what to do on some levels
add notifications for most levels to help player when planting seeds
add option to retry level
add tutorials and bug reports button to in game escape menu
camera sometimes goes to far down on level select
can get on top of level 6
change time speed not loading properly requires update in options menu
changing audio in options menu waits until new track to update
crawl key
crosshair doesn't disappear on level finished screen
email subscribe sometimes appears in level select menu
fix falling blocks
fix grass sometimes partially appearing on dirt at the start of a level
fix issue with time period not setting to 1 when changing level
fix jump 'feeling'
fix level 10 falling blocks = shouldn't fall
fix level 7 description that rob buggered up
fix level select been broken in built version first time loading
Fix main menu not properly appearing when exiting level
fix mouse sensitivity settings default
fix right click to remove plant not disappearing
flowers have shadows level 9
game doesn't load properly without playerprefs on first try
in game when options menu open pressing escape doesn't close options menu
in tutorial level when you die after getting time turner it respawns but you can still change time
inventory doesn't appear unless you scroll
issue when loading second level on same runtime instance with cursor? requiring escape to work
issue with tree having awkward rotation
level 10 flowers on every grass block
level 5 has issue when bouncing on mushroom the world border isn't high enough
Level 8 at start needs block not to respawn
level 8 fertile block falls
level 8 middle stone model
level 8 start fertile block makes tree fall wrong way
level 8 start needs blocks lifted higher
level 9 fertile block falls
level 9 passageways need to not respawn
level 9 remove useless fertile land next to hedge
level 9 tree goes wrong direction
level select menu wasn't hidden on some resolutions
level 9 blocks don't fall
main menu sometimes gets stuck on time period 4
make changing keybind have popup appear telling the user to press a key
make email adding only be on main menu and disappear when email was added
make email, twitter & discord panels disappear when not on main menu
make fallen blocks colliders disable
make falling blocks re appear when player respawns
make improved ui in game
make level select menu visuals update when level without requiring restart
make options for animations to be faster
mashing space into wall flings you in air
mouse rotation speed different on different computers
mushroom grow time for jumping not affected by speed
pause notifications from appearing when ingame in options menus
picking up a plant in period 4 makes the soil look healthy
player sliding with low friction but grabbing on walls with high friction
review level 6 falling blocks respawning capabilities
sign up for email appears in intro animation
stone block collider not properly disabling
stone breaking has dirt particle effect?
stop all blocks from showing flowers
stop holding space affect mushroom jump height
timeline messed up in levels that don't start in period 1
timeline showing on finish screen
title disappears when clicking options button from in a level escape menu
update credits and remove logo at start with stem vgc
update time period icons to be seed, sapling, tree, dead tree
plus much much more!
Files
Retract - WindowsV6
33 MB
Jan 01, 2019